Add- On Course on IPR in India & their Protection
Add- On Course on IPR in India & their Protection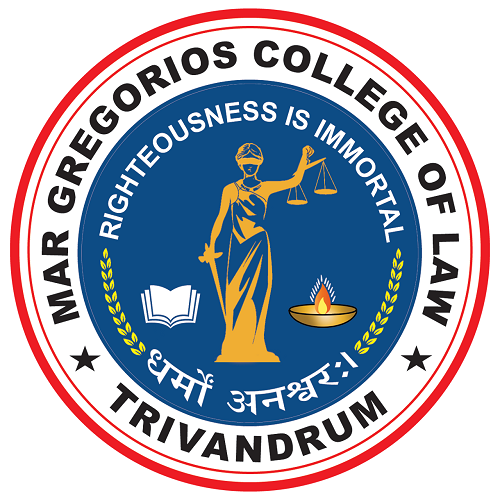 Add- On Course on IPR in India & their Protection
MAHARASHTRA NATIONAL LAW UNIVERSITY Mumbai
DPIIT IPR Chair and Centre for Research in IP
In association With
MAR GREGORIOS COLLEGE OF LAW
Thiruvananthapuram
&
MAR BASELIOS COLLEGE OF ENGINEERING AND TECHNOLOGY (Autonomous)
Thiruvananthapuram
Online Single Credit Course on
INTELLECTUAL PROPERTY RIGHTS IN INDIA AND THEIR PROTECTION
20-24 March 2021
Course Brochure
Organisers
Maharashtra National Law University (MNLU) Mumbai is one of the premier national law schools located in the economic capital of India. It offers graduate, post graduate and research degrees in law and allied disciplines. MNLU Mumbai has set up Centre for Research in IP among ten centres for legal research. MNLU Mumbai has also been awarded DPIIT IPR Chair under the Scheme for Pedagogy and Research in IPRs for Holistic Education and Academia (SPRIHA) of the Government of India.
Mar Gregorios College of Law (MGCL) is established by the Malankara Catholic Educational Society of the Archdiocese of Trivandrum of the Malankara Syrian Catholic Church in the year 2012 at the initiative and with the blessings of His Beatitude Moran Mor Baselios Cardinal Cleemis, Major Archbishop - Catholicos of Trivandrum who is the Patron of the college. This college provides for both post-grad uate and under-graduate programmes in law affiliated to University of Kerala and recognized by the Bar Council of India. MGCL, as a centre of excellence in legal education aims to integrate legal knowledge, skills and ethics through its rigorous academic activities and innovative teaching methods. Mar Gregorios College of Law has been conferred with SILF-MILAT National Institutional Excellence Award 2017 by Society of Indian Law Firms (SILF) and Menon Institute of Legal and Advocacy Training (MILAT) on the Law Teachers Day. As a token of appreciation for the significant contribution made by Padma Bushan Prof. N.R Madhava Menon to the advancement of Legal education in India, the management of Mar Gregorios College of Law started a Centre of Post Graduate Studies and Research in 2018.
Mar Baselios College of Engineering and Technology (MBCET) inspires the aspirations of generations of knowledge-seekers. Dedicated to mould morally upright, socially committed and intellectually trained Engineers, the College strives to realize its dreams. The aesthetically designed buildings in nine blocks spread over the campus have a total built-up area of over 32000 sq. m. An eco-friendly infrastructure concept, causing least disturbance to the landscape has been executed. APJ Abdul Kalam Technological University has notified the conferment of autonomous status to MBCET by UGC for a period of 10 years from 2020. MBCET strive to train and develop men and women of higher calibre equipped with the most modern scientific knowledge and technical skills destined not only to help our people in their march towards progress but also to bring glory and honour to our people and our Country. True to its motto: "Duc In Altum" Leading to the Heights of Excellence – the students of our College are to strive for excellence and skills and in pursuit of success in life, in terms of their commitment to bring happiness to our fellow beings and for the development of our Nation.
About the Course
Intellectual Property is a subject of increasing global importance. Policymakers have long recognized the need for IP rights to protect the inventions and creative works of individuals and firms. In an age when knowledge capital, the product of the intellect, has become an increasingly important basis of social and economic progress, IP has acquired unprecedented importance, and issues relating to the generation, evaluation, protection, and exploitation of IP systems have become crucial.
The IPR viz., Patent, Design, Trademarks, Copyright etc. are key components for business success and tool for enhancing the competitiveness of Industries. Intellectual Property Regime in India has been substantially refurbished after joining TRIPS by amending all IP legislations. As India is one of the largest economies in the world and plays a major role in IPR on the global IPR platform, it is necessary to develop efficient IPR regime in the country which will result in building a strong IPR profile for the stakeholders and, in turn, for the country that will strengthen "Make In India" and "Atmanirbhar Bharat" in the long run.
However, at present, there is lack of sufficient understanding and knowledge on IPRs among the people dealing with IPRs at different levels including post-TRIPs developments in IPR and digital reforms that have simplified IPR procedures and made them user-friendly.
In view of this, a comprehensive and compact Single Credit Online Certificate Course is prepared on the Fundamentals of IPRs. The present course is bound to benefit all those engaged in the manufacture, services, business, IP-education and research by enriching their knowledge, skill and expertise and may include legal fraternity, professionals, IP-academicians, industry managers, MSME, Startups, students in IPRs and individuals and enterprises willing to protect their Trademarks, Designs and Copyrights.
The course is meticulously designed to impart detail legal and practical knowledge on all aspects of Patents, Trademarks, Copyrights and Designs along with recent technical developments and process re-engineering that have taken place over the years.
Faculties for the present course include senior officials of Indian Intellectual Property Office and reputed IPR professionals who are known for their knowledge and expertise.
Tentative Course Content
Day 1 – 20 March 2021 – 2:00 pm to 5:00 pm
Introduction to Intellectual Property Rights

Importance and benefits of IPRs,

Nature of Patent right,

Patentability criteria

Non-patentable inventions

Structure of Patent Application, Patent Specifications & Claims,

Requirement for filing of Patent Application and Procedure for Filing, E- Filing system
Day 2 – 21 March 2021 – 2:00 pm to 5:00 pm
Patent classification and Prior art search,

International Filing of patent application,

Examination of application, Pre-grant opposition and Grant of patent

Drafting of Patent Specification and Claims; Interpretation
Day 3 – 22 March 2021 – 2:00 pm to 5:00 pm
Post Grant Opposition,

Renewal, Restoration, Revocation, Working of Patents and other Post-Grant procedures,

Licensing, Assignment and Infringement of Patent,

Penalties under the Patents Act, Appeals to IPAB/Courts

Introduction to Trademarks;

Types and Characteristics of Trademarks, Criteria for Registration

Classification and Search,

Filing Procedure, Examination and Registration;

Grounds for Refusal of Trademark

Madrid system for International Registration of Trademarks in India
Day 4 – 23 March 2021 – 2:00 pm to 5:00 pm
Opposition, Cancellation and Rectification procedures;

Unregistered Trademark and Passing off;

Licensing, Assignment and Infringement of Trademark;

Offences and Penalties; Appeals in IPAB/courts

Introduction to Copyright; Types of Works for Copyright protection

Filing, Examination and Registration of Copyright

Term of Copyright protection

Nature of Rights under Copyright;

Licensing, Assignment, Infringement, Fair use, Piracy and Penalties

Copyright Societies and International issues
Day 5 – 24 March 2021 – 2:00 pm to 5:00 pm
Introduction to Industrial designs;

Classification and Search in Designs; Filing, Registration and Term of protection in Designs,

Renewal, Restoration, Cancellation and Transfer of Design right

Piracy of Registered Designs and Penalties,

Appeals to High Court

Introduction to Plant Varieties and Farmers Rights,

Introduction to Semiconductor Integrated Circuits Layout-Design

Introduction and Importance of Geographical Indications (GI)

Procedure for Filing of Application and Registration of GI
Course Registration
The course is open for industry professionals, engineering students, executives, academicians, researchers, legal professionals, students and potential applicants for patents who wish to get detailed legal and practical knowledge in IPR that will be helpful in their profession and studies. The present course is bound to benefit all the participants by enriching their knowledge, skill and expertise in patenting system.
A course completion Certificate will be sent to all participants.
For Students & Research Scholars - Rs. 1250/-
For students of MGCL & MBCET- Rs. 900/-
For Professionals, Advocates, Academicians and others - Rs.1500/-
Registration Process
Pay the fees in the following link

https://feebook.southindianbank.com/FeeBookUser/org?id=295

Enter the necessary details.

Click payment and complete the process.

Download the payment receipt after payment.

Click the registration form link

https://forms.gle/wakdJkVZzfXFRuZJ6

and

fill the details.

Fill in the required fields

Upload the fee receipt. Submit the form.
Last date for registration : 15th March 2021
Bank Details for Direct Transfer
Name of the Account : Director, Mar Gregorios College of Law
Account number : 0483053000019621
IFSC Code : SIBL0000483
Bank Name and Branch : South Indian Bank, Nalanchira
Fee once paid is not refundable under any circumstances, and part payment of fee is not acceptable.
Course co-ordinators:
Ms. Sushma George & Ms. Amrutha Satheesan
Assistant Professors
Mar Gregorios College of Law, Trivandrum
Contact: 9895148315 & 9497435179
For more details visit www.mgcl.ac.in or for any queries kindly contact training@mgcl.ac.in